Shamanic healing – for Bath, Bristol, London and beyond…I see clients from all over the UK, and have been a professional healer since 1995. I also offer distant and online healing sessions for clients in the UK and internationally.
Shamanism is the oldest form of healing on the planet, dating back to Palaeolithic times. The word 'Shaman' comes from the Tungus language of Siberia, and is used generically today to describe an individual known in the community as someone who can act as a bridge between ordinary reality and spiritual realms. A shamanic practitioner moves into an altered state of consciousness to interact with the spirit world in order to practice healing, divination, ask for guidance or assist the souls of the dead to move into the spirit realm.
I have participated in healing ceremonies and spiritual rituals with Tibetan Lamas, Himalayan, Amazonian, Andean and Mexican shamans and ceremonialists, Taoists temples in China, Hindu temples in India, the Himba tribe in Namibia, Kalash tribe in Pakistan, Bushmen of the Kalahari, Baka Bwiti initiation in Gabon, and the Moon Dance in Costa Rica.
Shamanic healing relates to the spiritual aspect of healing. I facilitate the following shamanic healing methods: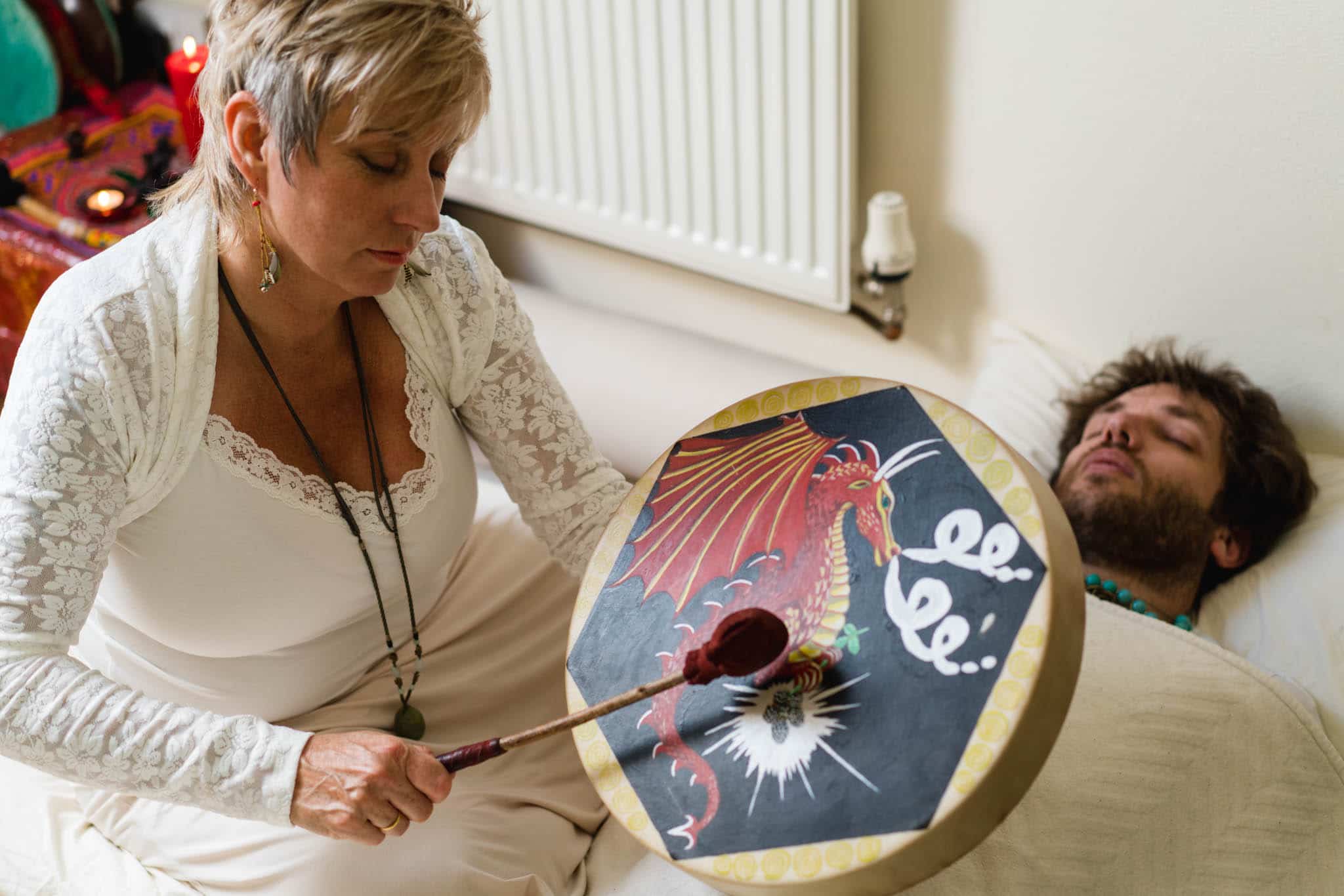 Soul retrieval
At times in our lives when we have experienced shocks or trauma, or simply living out of alignment with our soul's truth, we may lose a part of our soul or essence. Shamanic practitioners believe that this can leave space for depression, addictions, chronic illnesses and energetic intrusions. During a Soul Retrieval, I journey to find and retrieve the soul essence and return it safely to the body of my client. Typically, afterwards people may feel more balanced, empowered and present. It is their responsibility to integrate, honour and express the part of themselves that has returned, into their daily lives.
Power animal retrieval
I will carry out a shamanic journey to restore a power animal to my client to help them in their lives. The power animal is a spirit guide – that can include ancestors – which takes that particular animal form to bring a specific 'medicine' or 'power' to the recipient.
Extraction
Removal of misplaced energy, negative thought forms or 'intrusions' from a client's energy field, and filling the space with light and the client's power. This may also include compassionate de-possession.
Curse-unravelling
Curses are a part of every culture but in some it is more overt. In my experience, they may be simple and unintentional, for example we can curse ourselves with negative beliefs about ourselves, or they may be complex and intentional, and these kinds of curses are often fuelled by revenge, jealousy, wars, feuds or vendettas. They may have been made many years ago and still their influence continues down the ancestral line. In my opinion, the energy of curses is very toxic which is why they have to be unravelled with care.
Disclaimer: If you have, or suspect you have a medical problem, see your doctor or professional health care provider. Healing is not a substitute for medical treatment. The information contained on this website is not to be used in place of standard medical, nutritional or general health care or advice by a licensed health professional. Sue Holmes and Fire Horse makes no claims to diagnose or cure illnesses.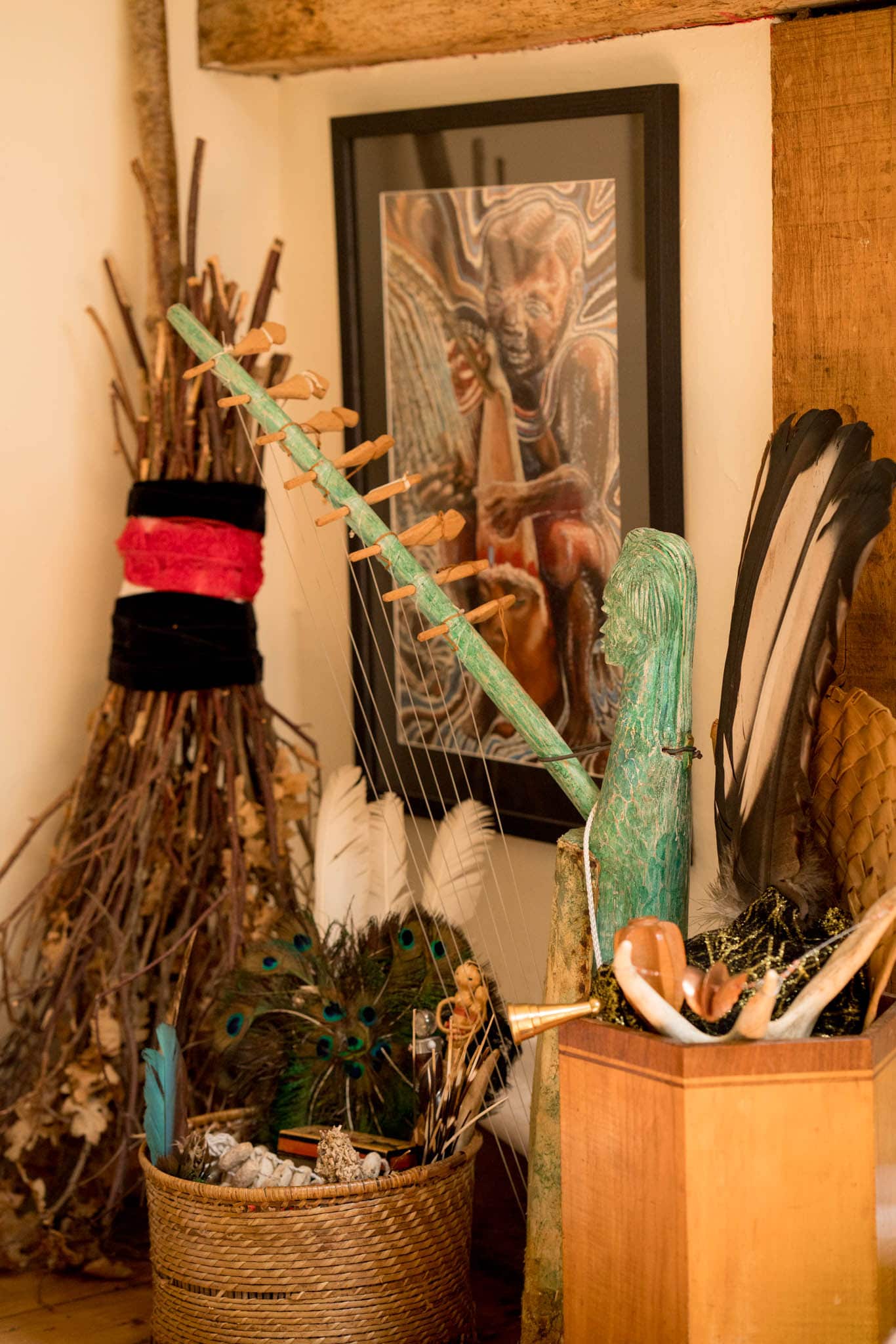 'I received two sessions of healing from Sue over the course of two consecutive days. Initially to help deal with childhood trauma and then Sue worked to return aspects of myself that had run to the hills during those incidents (soul retrieval). I honestly instantly, felt a stillness, deep joy and peace that had been missing for the past 37 years, as if I have been searching for something, unable to keep still. I now understand why. Since the healings, I feel, see and think differently, in a nutshell, it is a huge relief and my life is taking a quantum leap because of it.'
'My experience of shamanic healing sessions with Sue is a combination of deep gratitude and awe. I came to Sue with a particularly troubling pattern in my life, within two sessions the pattern was cleared. Sue did this through a combination of methods, explaining to me along the way why and what she was doing. I felt complete trust and respect throughout and have been recommending her work to all my friends. Thank you and lots of love, Natalya'
'I had a wonderful experience at the hands of Sue during a sacred healing ceremony. I experienced fears and issues that I was able to confront and clear only with Sue's expert help. Sue gives off a warmth and confidence that made me trust in her abilities absolutely. And I feel my healing experience was greatly enhanced by her expert care and energy healing/shamanic healing. I am very thankful to Sue and am, therefore, very comfortable recommending her healing skills.'
'Meeting Sue was the biggest turning point of my life so far. I have visited many healers, so that's no mean feat. The healing session was an incredibly special experience.  Sue put me so at my ease, we were in raucous laughter at the beginning. She is truly gifted and I could really feel the years and years of training she has undergone, and benefitted from the integrity with which she spoke. Since then, every day I kept tuning into myself and all I could find was absolute peace, like I have never known before. I felt like I had my voice back. And I didn't understand the extent of how sick I was in my stomach until it was healed. Old unhealthy patterns; gone. Difficulties in a particular family dynamic shifted in a life-changing way. I have more energy, a lot less pain, and I feel comfortably confident and relaxed. When I am about to do something, that previously filled me with absolute dread, I kind of look around for it within me, and it's just not there now, and I go ahead and do it. Having not worked for over ten years I finally feel free, and things are just unfolding. I was previously so stuck and couldn't quite take the step I needed to. Now I have taken it and feel so happy. I have sent off my course application, been offered a dream job voluntarily to start, and have two clients for a part time business I have been preparing for years. I am so grateful to Sue, and so is my son and my Mum. We are all benefitting, and I so look forward to booking a Space Clearing and land healing for our home and garden soon. Several female friends are very keen to see her too.'
'I had the immense Blessing of a shamanic healing session with Sue. I entered into this sacred space not knowing what to expect but my guides had led me there and I nervously trusted the call to receive her healing. What a gift this was to be. Sue took me into a deep state of being with love, compassion, huge wisdom and complete competent knowledge of her craft. I felt held, safe and was able to trust deeply in the medicine she channels and creates. If you have the opportunity to take a journey with this wise sister….bless yourself. I'm glad I did.'
'For Sue Holmes (firehorse.uk.com)
I really do appreciate what you have done for me in terms of facilitating my soul's healing and allowing me to move forward from distress and despair to hope, peace, 'living' joy and contentment. I offer my sincere gratitude for the profoundly positive effect of the deep 'Rite of Passage' healing you gave me and for the time you took during our session together to heal those emotional wounds and negative burdens that were so detrimental in inhibiting my path moving forward. In essence, I truly feel like your healing has cleansed, reset and reconnected me with my soul and I am so thankful for your help'.  Vicky Ellis, Animal Behaviourist, Norfolk.
'I felt the strength of your intention and the level of your skill as you held such clarity and focus to call my soul back to me. I felt it like a luminous ball re-entering my body and the advice you gave me to continue to work with felt so true and so right..Thank you. I would love to experience more of your healing. x'
'After Sue's healing I felt completely transformed: from a reed in the wind to a rock. With the power animal that came to me, I became strong. I think that for such a healing it would have been worthwhile to go to the ends of the earth! I express the sentiments of thanks and gratitude'.
' I had for many years suffered from deep depression and held in the trauma associated with my father and his illness, multiple sclerosis. Sue's nature and energy was astounding to me, I felt she was able to understand me like no one had ever been able to, she allowed me to go through my process of letting go and out the other side with a rare clarity and steadfast strength. I felt I was held in a deep loving kindness that allowed me to relax and go as deep as I needed to without fear. She felt to me as solidly rooted as a mountain and as peaceful & caring like a true mother and allowing me to grow like a wise one. Thank you, Sue, for being the powerful kind and loving woman you are who helped me so deeply when I really needed to be freed from grief and mental bondage. I will always recognise your skill as a healer, teacher and medicine woman and thank the stars for our continued connection. Anyone who meets Sue will be blessed by her essence of guidance and healing'.
'I fully recommend Sue Holmes as a shamanic practitioner and Space Clearer. Her sessions are held with the utmost compassion and integrity. Please check her website out if you are looking for some inner or outer space clearing'
'After feeling stuck for a period of three years I was fortunate enough to find Sue's details on the internet. I'm so glad that I did. As someone who has tried many healing modalities over the years, I was not easily impressed until I met Sue. The session was very powerful and had a profound effect on myself and my future. Sue provides a safe and supportive environment making you feel at ease and in very competent hands. I wouldn't hesitate to recommend Sue for a Shamanic healing treatment, and I am very grateful to have been able to experience this for myself.'
'As a Natural Health coach , I know only too well that your emotional and energetic body has a profound effect on your well-being, and it is simply to say that stress effects your health. But often their are blind spots that on our own journey we do not see. On my own personal health journey I have experienced many healers to help myself in this area of healing, and I am very grateful that I had a Shamanic Healing treatment with Sue that uncovered some of my blind spots which where then healed. After the treatment I genuinely feel so much more my natural self, I'm more comfortable within myself, more relaxed, more at ease, more in my strength simply more happy.
Sue healing is at a very high standard and I highly recommend her.'
A simple yet powerful technique that channels healing from angels, ascended masters and galactic healers.
Colour light is directed to points on the body using a pen torch and coloured glass rods, with healing effects on the body, mind, emotions and spirit – reaching the roots of deep issues, releasing old emotional baggage, strengthening the body and facilitating spiritual growth.
A gentle non-heroic procedure which guides suffering beings to where they need to be, bringing freedom, relief and sovereignty to both the host and the spirit.
Energy healing is a hands on method, that seeks to assist the body/mind/spirit in restoring its true nature. Techniques include: infusion, cleaning the energy field, sound healing, auric surgery, intention alignment, relationship cords, regression healing and spirit release.
Shamanism is the oldest form of healing on the planet. As a bridge between the spirit world and ordinary reality, I facilitate the following healing techniques – extraction, soul retrieval, power animal retrieval, psychopomp, curse-unravelling and compassionate de-possession.
I offer three profound healing rituals from ancient Tibet – for you, your home and land healing