Quantum physics has proved that everything in the universe and beyond is made up of energy, constantly flowing and changing and affecting us.
The energy of the places in which we live, work and socialise are said to affect our physical, emotional and spiritual well-being. In my experience, everything that happens in a building – thoughts, actions and emotions – is held there like dust, imprinted on the walls, floors, and furniture. Traumas, arguments, grief, bad luck, depression, shock, stress, sadness, worry, repeated patterns of behaviour and ill-health may leave 'bad vibes', and the energy can stagnate, potentially affecting the people who live there, and perhaps perpetuating the tendency for negative experiences.
Space clearing is a profound and effective technique that aims to clear the past energy from a home, and make a fresh start. It seeks to fill our personal spaces with vibrant, positive, revitalised energy and in doing so raise the quality of our lives.
A building that has been space cleared will tend to shine with clarity and potential. It can also be adapted to create a 'blessing ceremony' for a newly built home or business.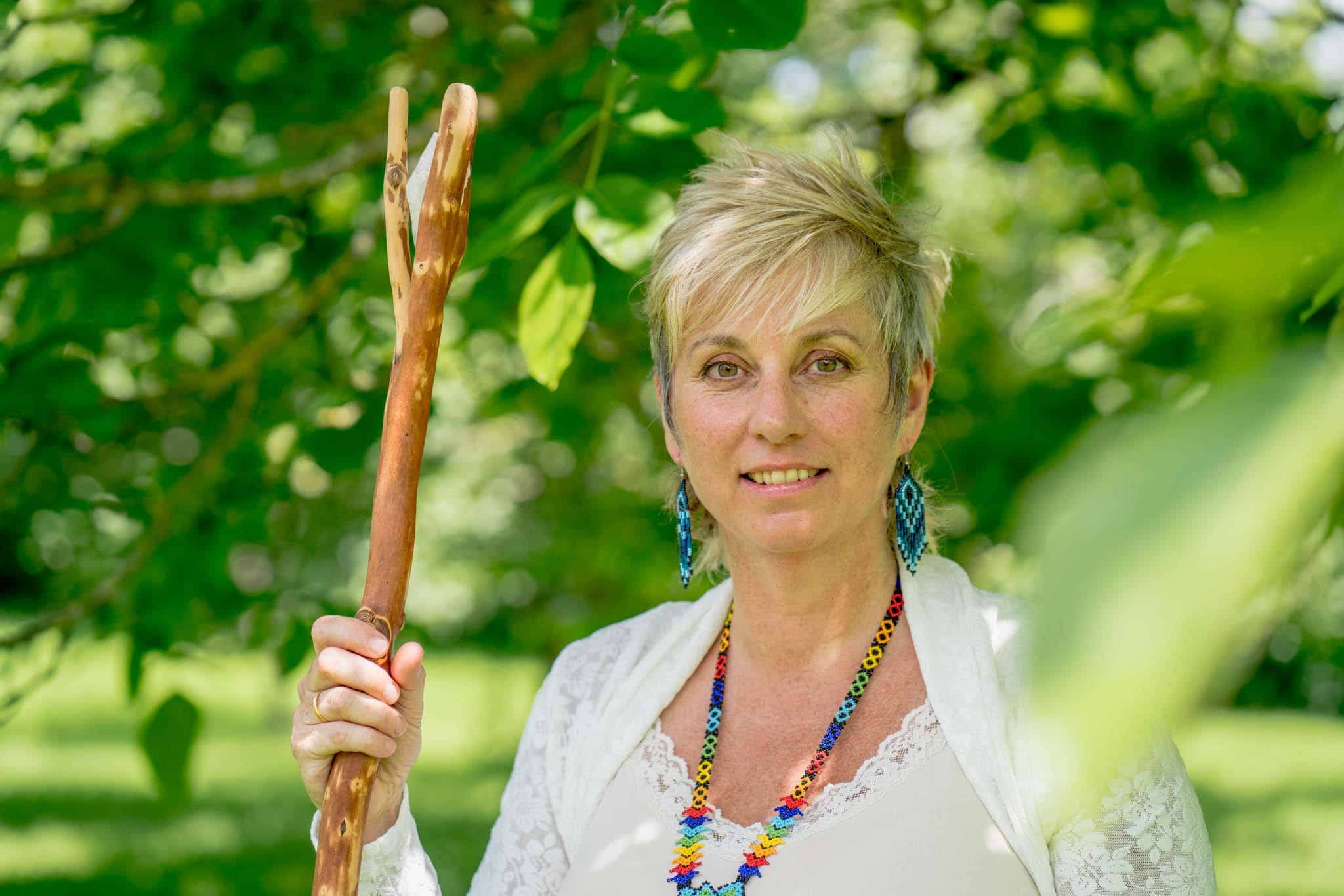 Space clearing is a practice found in traditional or native cultures. In olden days, people would 'drum out the evil spirits'. In the West, people use spring-cleaning and house-warming parties to clear the old energy and bring in the new. A space clearing ceremony is the ultimate spring-clean!
I have been evolving my space clearing & land healing ceremonies for around fifteen years, empowering typical methods with shamanic techniques, sound healing tools and Tibetan rituals, to create the powerful, effective and magical ceremonies that I work with today.
My space clearing ceremony was on TV! You may have seen me space clearing on 'More 4′ TV, on 'Kirsty & Phil's Property Guide' (9pm June 11th 2008), and the amazing transformation that her client Katie described one month after the space clearing ceremony.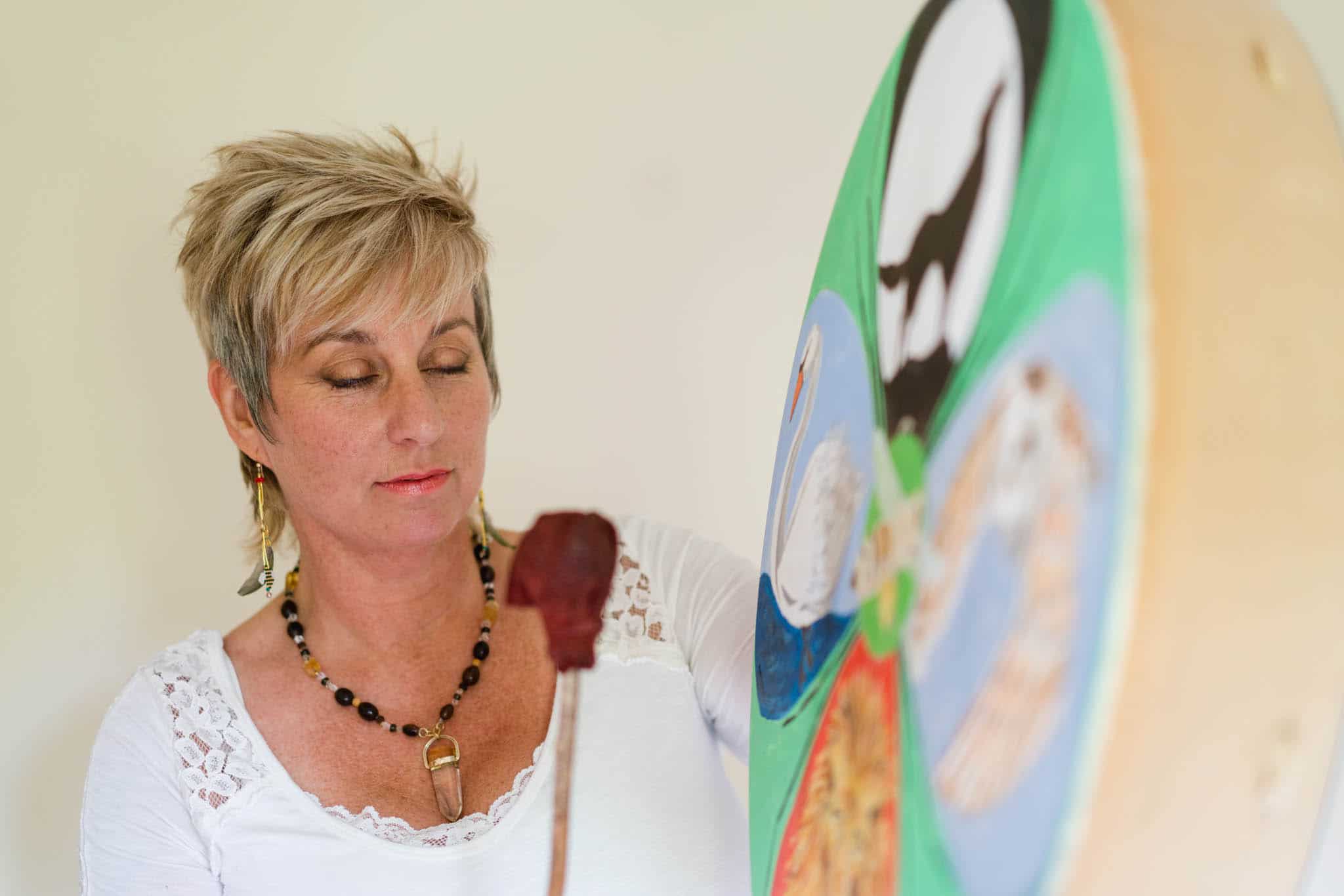 Space Clearing Ceremony for your home:
This can be a deeply cathartic and rewarding experience. You can participate fully, partly or abstain from the process as you wish, and it is designed to suit each individual's beliefs and culture (whether you consider yourself to be religious, spiritual, agnostic or atheist). If this is your first experience of a ceremony, you need not feel apprehensive, since I will explain everything as we go along, and ensure that  you feel comfortable at all times.
The 4 main Space Clearing steps are:
Preparation
Prior to the consultation I will give you guidelines, which will include physical cleaning and clutter-clearing if possible.
When I arrive at your home, you talk through your experiences and wishes, and give me a tour.
I will dowse for and harmonise the earth energies, which begins the process of releasing stagnant energy.
I will sense the work to be done by tuning into the history of the building and surrounding land, and the frequencies of energy and emotional imprints that are present, including using a shamanic journeying technique.
Beautiful flower offerings for each room and an altar for your ceremony are then prepared.
I offer you an oracular reading, for guidance and insight.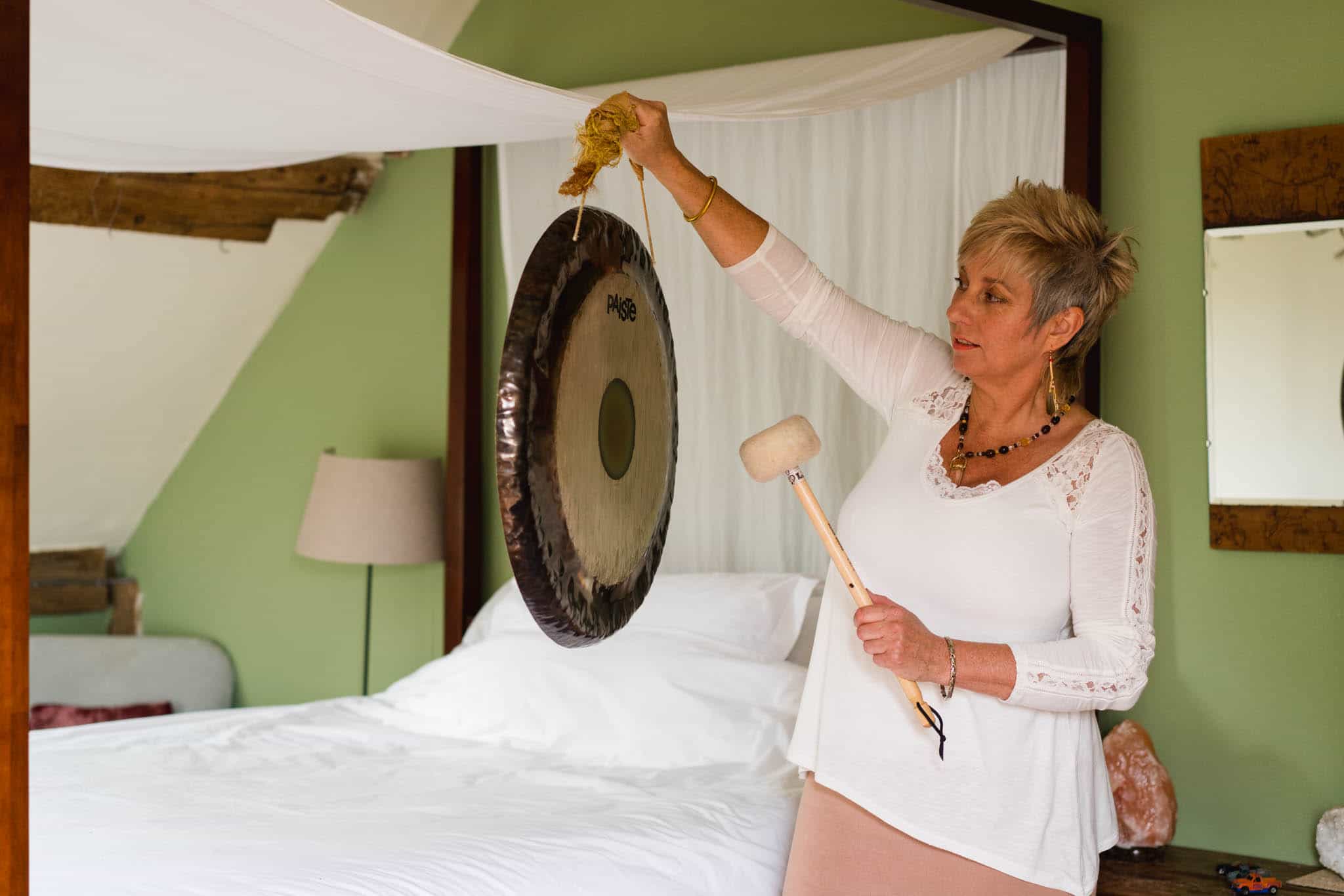 2. Purification
The ceremony commences: clearing away negative & stagnant energies, with burning sage ( in a shamanic technique), and powerful instruments of space clearing & sound healing including my voice, shamanic drum & rattles, a Paiste symphonic gong, crystal pyramid and and solfeggio chimes.
I also incorporate ancient and profound Tibetan healing rituals called *'Chod', 'Lud-dzong and Lu-Tor' when appropriate.
Occasionally spirit release or curse clearing is necessary, which I am experienced at dealing with, in a safe and compassionate way.
3. Invocation
Filling your home with positive energy – the space is then infused with beautiful flower essences, harmonious sounds and your heart-felt intentions.
We complete with a fire ceremony, combining your intentions with the magic of fire, and propelling them to becoming manifested.
4. Preservation
with a technique that seals in the positive energy.
NB: Clients almost always say that they didn't realise how powerful, profound and all-encompassing the space clearing ceremony would be, and that they would receive such a strong healing from the experience, as well as the house.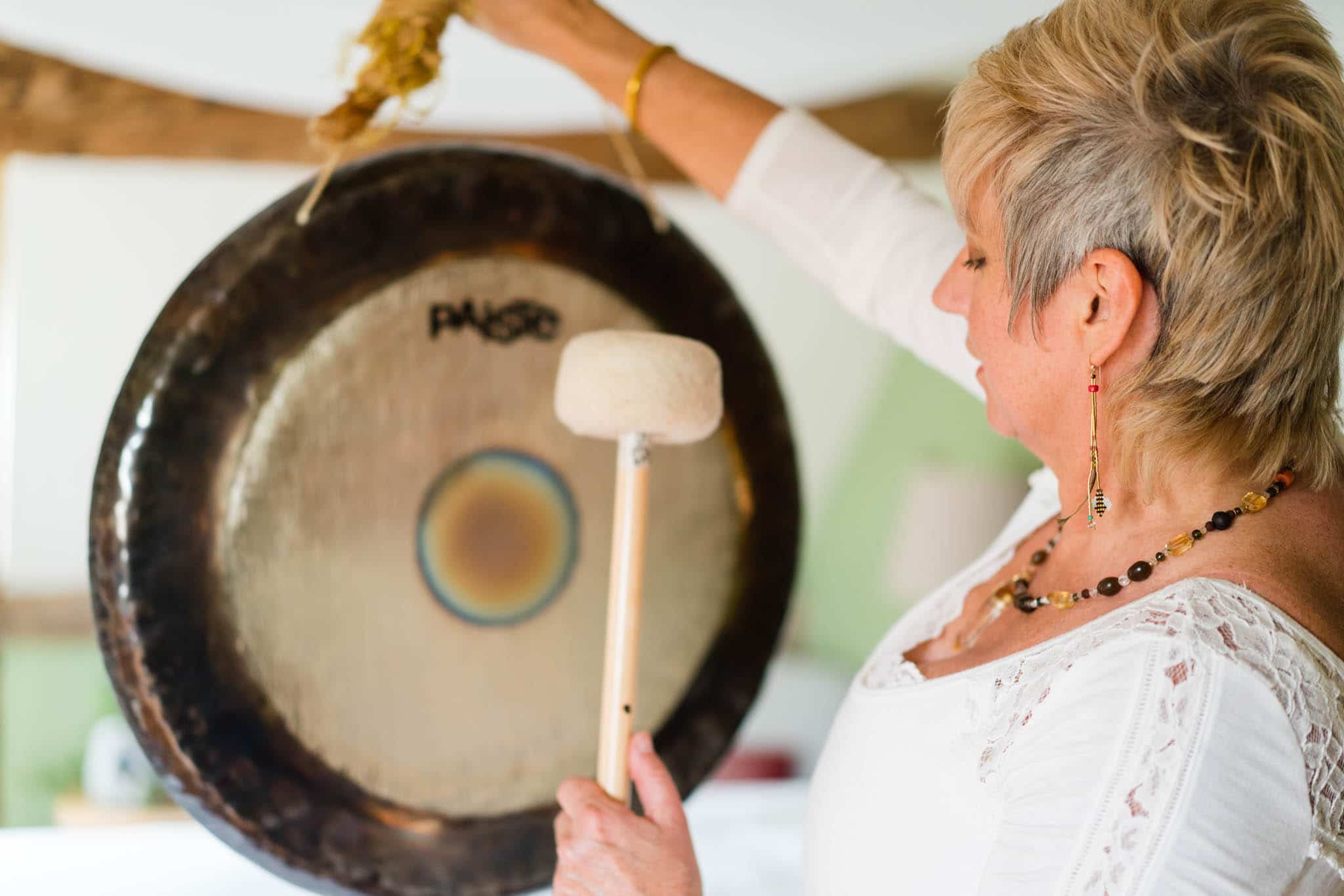 Space Clearing is particularly useful:
After clutter-clearing or spring cleaning
When you move house, to remove the energy of the previous occupants, and to make it your home
As a blessing for a newly built house
To help you bond with a house
To help sell a house
After a divorce, bereavement or change of job
At the start of a new relationship
To prepare the house for a new baby
If you've been burgled or had a bad experience in your home
If you feel uncomfortable or spooked in any room
If you know that the building or land has a violent history eg on battle sites
To expand a particular life area e.g. prosperity, creativity, relationships
To increase your energy, vitality, well being and clarity
If you feel stuck in a rut or want to shift a particular issue
After a period of ill health, depression, arguments or bad luck
To refresh and clear a therapist's treatment room or meditation space
If you would like to train to be a professional Space Clearing consultant, I am teaching a Space Clearing training in 2018 (see events)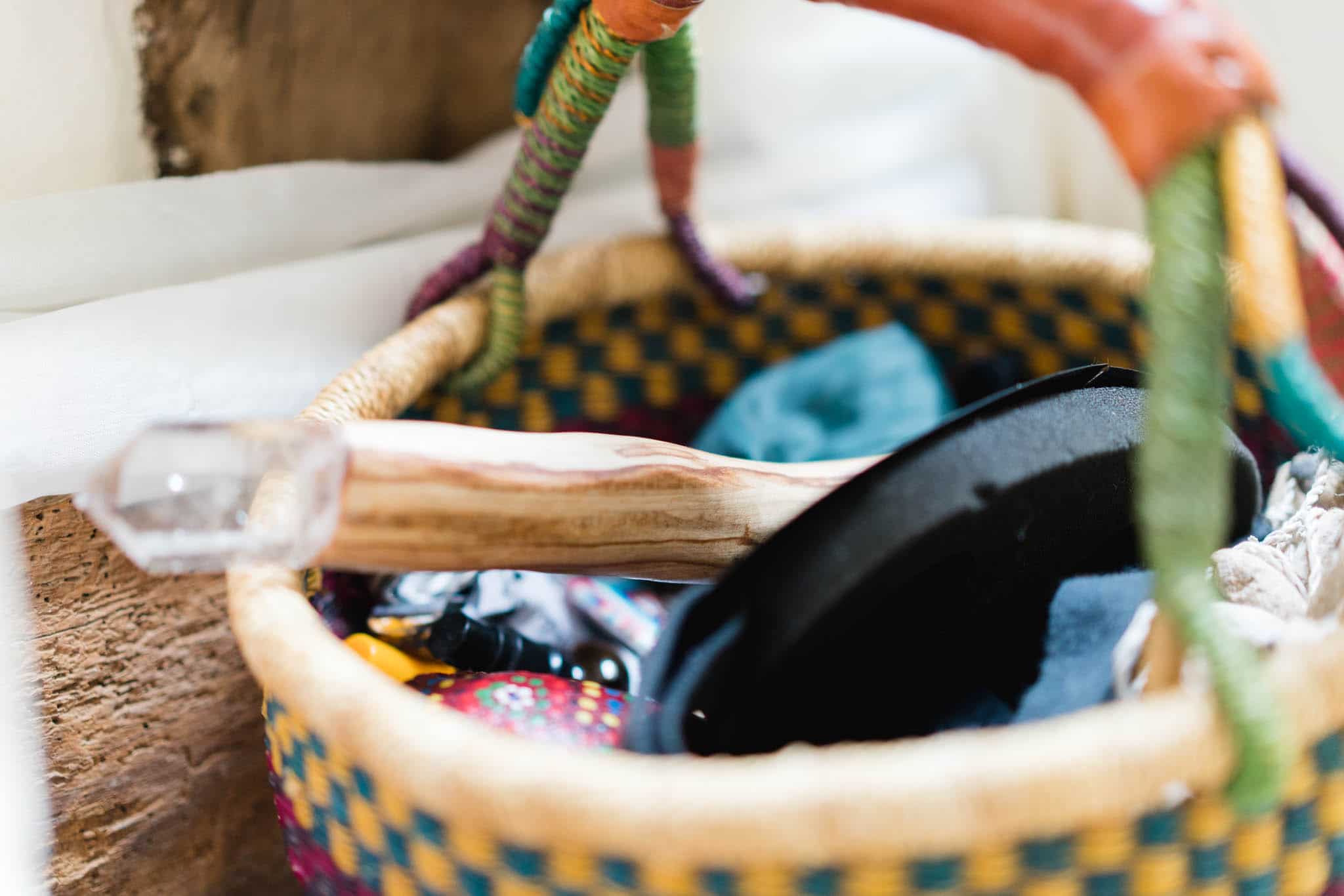 "After struggling to move house and losing a buyer, I turned to shaman Sue Holmes to space clear my house to revitalise its energy and attract a new buyer. Within a week I had a buyer who matched my asking price and a week later I'd had my offer accepted on the perfect new home in the perfect location. I'd highly recommend this magic lady to anyone in need of a spiritual spring clean."
'Sue is not only a consumate professional at Space Clearing, but she brings with her the knowledge of an absolute adept when it comes to applying ritual in pragmatic and life-affirming ways and has a tremendous intuition, which makes the whole experience nothing short of magical. Everyone should experience the gift she is offering!'
'The Space Clearing of my home was a wonderful experience on many levels. Sue works with integrity, respect and great care not only for your home but also all those who live there. She takes time to understand what you want from the Space Clearing and gently guides you through all aspects of the day. I felt I was in excellent and experienced hands. I had no preconceived ideas of how the house would feel or be after the space clearing so it was with great interest and delight when myself and others noticed/felt changes. My puppy slept in longer and stopped barking in the morning. Others asked if I had decorated as the rooms felt fresher or cleaner and even bigger. The house has a unity that was not there before and a sense of being more alive so that the energy of the home & family function at a higher vibration which can only be good for us all. Suffice to say the changes are many and all positive and Sue is a wonderful practitioner who I would highly recommend if you ever want to make your house the truly wonderous home it can be'.
'I thought I would write to tell you how much better I'm feeling since the Space Clearing – I feel much more like myself again and that terrible hole in my heart is filling up again with love and gratitude. I feel stronger and yesterday I had friends round to celebrate my birthday – I haven't been able to contemplate the thought of having anyone round for a very long time – they all sang me Happy Birthday and it was very special. I feel I'm standing taller and straighter and am feeling much more positive about facing the coming weeks and more focused. I've wanted nothing more than to rest this weekend, but it's a healing rest, rather than a fitful rest. The shock and trauma of recent events has affected me on a physical level and literally knocked the vitality out of me, but now I feel like there's more vitality growing inside me. My eyesight was also affected and now my eyes feel clearer as if I can see clearly again. Thank you so much Sue for bringing your healing to me – it was a very special day and incredibly insightful. I really feel like all is possible now'.
'I contacted Sue following a very sudden and traumatic separation. I felt that I wanted to cleanse the house and shift the energy. I wanted the house to feel safe and welcoming. Sue spent a whole day with me. I was amazed that it took a whole day and I was quite nervous about what it would be like. I was immediately very impressed by Sue's professionalism she inspired confidence in me and made it feel very safe. She knew exactly what the process was going to be and talked me through it all at the outset. I very quickly found myself immersed in the rituals the whole process and the positive affirmations. For me the drumming was extraordinary I felt stuff being cleared and released and she went to exactly the areas in the house where there had been difficulties. I also completely loved the healing that she gave me with the most beautiful sounding Tibetan gong. At the end we did a fire ceremony which again felt like letting go of stuff and new beginnings. I felt an immediate change in my home I look forward to coming back each day and I now love being here again and treasure the space and can also reclaim the many lovely memories that I have'.
'Wow, What can I say! the cottage was a delight to wake up in. I also saw how zinging I look in the mirror, it's amazing that it had that effect on me as well as the house. Must have been that incredible gong bath. Sue I am so grateful for all you gave me in the ceremony yesterday. I really felt your generosity in the completeness and focus you brought to every part of the ceremony. You gave so much more than the monetary value you put on it. And I felt so held and safe with you. You really put me at my ease with your relaxed acceptance of exactly where I was with my process, and orchestrated the ceremony with the same relaxed easy-flowing focus'.
'Having Sue working in our home was a joy. She is easy to be with and her enthusiasm for her work is infectious. We have lived in our home for ten years and I noticed issues started to affected me almost from the outset, and my husband has too. The list is long!
On separate occasions we visited a kinesiologist who mentioned there were environmental issues with our home. That's when we called in Sue, and she carried out her extensive earth healing, curse-removing and space clearing work. Well, we both sensed the energy shift within our home immediately. I can't describe how much better I feel, it had been like a ball and chain round my neck every day. Although we have to sleep in a different bedroom now it's a small price to pay for a good night's sleep. Thanks to Sue we are enjoying life again'.
'My son and I live in a lovely old house, but ever since we moved in numerous things had gone wrong. We felt 'stuck' and I often had a sense of someone watching me. I'm so glad that I contacted Sue who came and did an amazing clearing and blessing. All the negative energy in the house has gone, it feels tranquil. I no longer feel that I'm being watched, and life is flowing more harmoniously. Thank you Sue!'